When I made the suet cakes for my Suet Cake Tutorial, I used up the last of my quick oats and knew right away that I was going to upcycle that bad boy into a headband holder.
Here's a picture of what it looked like before. That's it all the way on the right.
I spray painted it with white Krylon primer first because I knew that my blue wouldn't cover it well. When that was dry I painted it Mediterranean Blue. At least I think that's what the color is called.
Ignore the crackles on the top, I got carried away with the painting. Then I cut some burlap to cover it.
Glued it on. I glued it on the seam of the container and then rolled it. That way the seam of the burlap matched up with the seam of the container. I carefully hot glued the ends down so that it wasn't bunched up.
When that was cool I flipped it over and tucked the extra burlap down inside the container.
Then I took some wired ribbon and ruffled it on both sides.
I glued it to the container at one end of the seam. Then as I went I made this bumps, gluing between them, to make little pockets for the ends of the headbands to fit into. When I got to the top I realized I'd cut the ribbon a touch too short, so I made a quick rosette to put at the top.
I wanted it to have a base, so I spray painted an old candlestick holder I had laying around using silver Krylon paint.
Then I used E6000 to attach the base to the container. I had to stick some heavy stuff inside the container while the glue dried to make sure that it stuck.
Here's the finished product:
And here she is, put to use with all my etsy shop hair stuff:
I love that you can see the paint through the burlap.
Do you see what I meant by the "pockets" in the ribbon?
I think she's going to be perfect for when I finally do some craft shows! I want to make more. Guess I'd better get eating those oats!!
Featured at: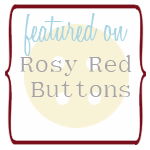 Entered in