We have lots of birds out here in the middle of nowhere. Our yard features about 5 birdhouses (there might be more, I can't remember) and 5, sometimes 6, bird feeders. We don't have a birdbath because the house is surrounded by creeks that don't freeze, even in the dead of winter. Every spring I put out a basket of material for the birds to use when building their nests. Not that they need it out here, but I love seeing my threads in the nests. I've been hoarding stuff to put out since fall, and was planning to set my basket out sometime in the next couple of weeks. Then I saw an inspiring tutorial on Sew Many Ways. Karen posted a tutorial on how to make chicken wire purses to put your birds nest material in!! I knew I had to do it. I wanted to start right away, but life got in the way. Our water heater broke and then we had company over the weekend. So...this week I totally busted out a roll of chicken wire leftover from last year's garden and got to work.
My chicken wire had a hexagonal shape. I couldn't figure out how to cut it without having sharp edges, so I embellished it. I hot glued burlap over the areas I'd have to stick my hand in to fill it.
Of course I had further embellish it. What can I say? I like pretty colors.
I used purple and turquoise copper wire to add some flair. It's expensive stuff, but I already had it on hand. If you're not going to use the stuff you have, what excuse do you use to buy more??
I even spray painted the perch stick to match my color scheme. (Thank you Krylon!!)
For the handle I braided some wire and then attached it to the back.
Then I stuffed that bad boy from my hoard of materials and hung it in our Japanese Maple tree near our suet feeder.
There's a bunch more stuff that I can stick in here when it starts to mat together, or the birds take it.
I wanted to use pretty stuff, but I did add some dog hair in for substance. I know birds love to use dog hair.
Isn't that blue stick pretty??
It's even prettier from the back. I hope the birds like it. I'm thinking that I might make a couple more to give as gifts to some of the bird lovers I know. Would you appreciate a gift like this or would you feel jipped?
Yeah! We got featured at Under The Table And Dreaming and Luxe Boulevard! Awesomesauce!!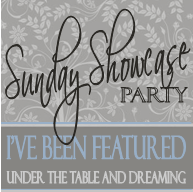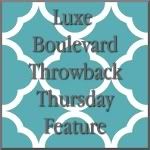 Entered at